What's Should The Etiquette Be For Food Bloggers In Eateries?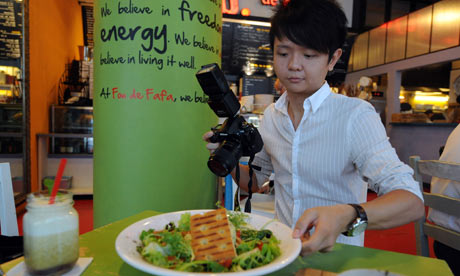 The Guaridan asks - "A large and growing number of people obsessively take and share photos of their food. Are we in danger of losing the ability to simply enjoy a meal..?"
Full article (and image source) over at
http://www.guardian.co.uk/lifeandstyle/wordofmouth/2012/mar/27/cameras-at-the-table-snapping-point
What do YOU think?  What's should the etiquette be for food bloggers who want to photograph food in eateries?
If you run an eatery, do YOU mind people snapping away?  What if you're a customer… do YOU mind it if others are snapping away for photos for their blogs?